Dear students of the Faculty of Health Sciences, valuable families of our students, prospective students and all education and health professionals with whom we work with all our strength,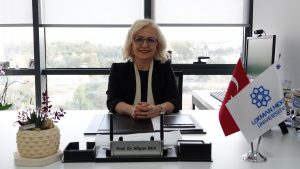 Lokman Hekim University, which started education in 2018-2019, has become a rapidly rising institution in the field of education with the Lokman Hekim Health Group's experience of more than 25 years in the field of health. Our university is a "health-themed" university and has brought together all its knowledge, effort, interest and attention to provide the most qualified education in the field of health. Parallel to this, the Faculty of Health Sciences, which has been continuing education – training, scientific research and projects, social activities and quality studies since its establishment, consists of seven separate departments, namely Nutrition and Dietetics, Language and Speech Therapy, Midwifery, Occupational Therapy, Physiotherapy and Rehabilitation, Nursing and Audiology.
Lokman Hekim University, which is still a young university, is already taking firm steps towards the point it deserves in our country and in the world, with its infrastructure and equipment and strong academic staff, with the wide internship and application areas offered by our hospitals affiliated to Lokman Hekim Health Group, and with its contributions to the national and international science and academy world.
Our university and faculty have adopted the principle of educating health professionals who are well-equipped in their fields and who are confident in their professional knowledge and skills. For this purpose, the departments within our faculty have adopted an education and service model based on both strong foundations and development, continuous innovation and quality, by bringing together well-equipped teachers who have made a name in their fields and who have come from education, with young academics who are dedicated to their education and professional development.
With this model, which we have developed by closely following the developing, changing and transforming higher education processes in the world and in our country, it is aimed to train health professionals who respect professional and patient rights, able to develop a work ethic in line with ethical principles, able to take a leading role in the development of health policies, open to technological developments and innovations required by the age, aimt to contribute to society, are willing to be a part of the solution, not the problem, observe the national and moral values of our country, and have strong social and communication skills.
In practice, our priorities are to evaluate the level of realization of the goals we set, student, graduate and employee satisfaction, and to improve all processes of our university, faculty and departments with the feedback received.
I would like to express my endless thanks to our students who have just come to our university, to our departments under our faculty, to all our students who continue their education with enthusiasm, to all our academic and administrative colleagues with whom we always work for the better in all educational and administrative processes, to the senior management of our university, whose strong support we have always felt by our side, and to all our internal and external stakeholders, especially Lokman Hekim Health Group.
Best Regards….
Prof. Dr. Nilgün BEK
Dean of Faculty of Health Sciences