Dear Young People,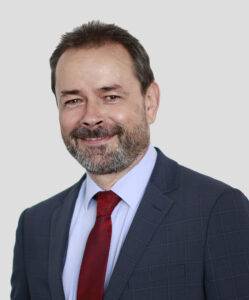 Currently, it is known that the social, economic and political dimensions of issues related to health and health services are becoming increasingly important in all countries. In these days, when we are fighting the pandemic, our awareness of the importance of Health has increased in our country, as in the world, and the value of human and material elements in health services has been better understood. In addition, developments in science and technology have led to important developments in the field of health, as in every field. The need for people who are experts in their fields and who have technical knowledge and skills to work in the health sector, where the variety and quality of personnel are the most intense, is increasing day by day. A lot of tasks fall on our universities and on providing manpower to meet this need. The university should be considered as educational institutions where individuals stand on their own feet, make their own decisions, and most importantly, individuals take their life responsibilities. In this process, vocational schools offer a great opportunity for young people who want to take an early step into professional life and to take roles and responsibilities in the health sector. Thanks to the theoretical and vocational applied formal education provided in 4-terms with vocational associate's degree programs, young people who want to have a profession are given the opportunity to start life and have a job as soon as possible.
There are 10 ea. associate's degree programs in the Health Services Vocational School: Oral and Dental Health, Operating Theatre Services, Anesthesia, Dental Prosthetics Technology, Dialysis, Pharmacy Services,  First Aid and Emergency, Medical Imaging Techniques, Medical Laboratory Techniques, and Elderly Care.
The aim of Lokman Hekim University Health Services Vocational School Programs is to bring the qualified intermediate staff that the sector needs to the health sector. Lokman Hekim University Health Services Vocational School, which was established in 2018 and started education in 2019-2020 Academic Year, acts with the vision of being a vocational school preferred by the best service providers of the health sector with its quality and health sector-oriented education. Especially for our young people who want to have an associate degree in health, Lokman Hekim University Health Services Vocational School will be a university choice with exactly the qualifications required. The working areas of our students who will graduate from Lokman Hekim University Health Services Vocational School are quite wide.
Our vocational school aims at solution-oriented quality education that centres on learning-based and professional development by doing and living with an innovative and practical education approach that our country needs. Our current associate programs are focused on national and international demands and opportunities in the field of Health. Our vocational school provides a unique university experience for students with its dynamic and qualified academic staff, advanced laboratories, well-equipped and high-quality hospitals, internship opportunities and various student activities. During their formal education, our students can transfer to various undergraduate programs and Double Major (Double Major) in different associate programs with the Vertical Transfer Exam (DGS). Socio-cultural activities developed by students both individually and through student communities are supported.
With our programs designed to encourage the intellectual and social development of our students and improve their skills, we not only make our students professionally perfect, but also prepare them for life to lead their field and provide effective health care.  We support the learning of our students by a talented and qualified teaching staff dedicated to providing interdisciplinary teaching, research and health care. The university's associate's degree experience begins with a rich foundation to begin the development of core competencies in critical thinking, communication and social responsibility in the first year. Our college encourages the development of competent, ethical and compassionate graduates who are equipped with a strong understanding of the core values of healthcare and strive to make a difference in the lives of patients. Program officers and management are always ready to provide guidance, program information, and academic support to prospective students and students.
In addition to providing a complete and flawless vocational education to our students, our school offers the principles of being an individual, the characteristics of being a qualified and ethical professional member and the skills of providing a perfect health service. In our university, which is a specialized university with a health theme, our associate degree students also benefit from all the technical and academic opportunities provided at the undergraduate level in the field of health sciences without any discrimination.
Our school has developed an education cooperation partnership program with leading health institutions in the field that will support professional practice and training activities for each program. With these cooperation programs, our students are provided with an opportunity for internship and post-graduation employment. Our course contents are determined together with the institutions we cooperate with, and professional practice courses are given by expert tutors from these institutions. In addition to the professional, social and ethical-based trainings we provide to our students, elective courses with various up-to-date contents and prioritizing personal skills are provided with extensive socialization opportunities. With all these education programs, we aim to raise our young people as qualified, equipped, self-confident, sociable individuals who have national and moral values, who voluntarily provide health services to people, are aware of their professional responsibilities, and have high love, conscience and moral feelings.
Dear Young People,
It is your choices that make life livable for you. We are ready to guide you on your career journey, which we prefer and wish to end only with success, and to educate you as one of the sought-after professionals of the health sector. If you are interested in the health sector and want to make a career and work in the health field, we invite you to join the Lokman Hekim University family and become one of the future health professionals by choosing one of our health-specific programs.
Director, Lokman Hekim University Health Services Vocational School
Prof. Dr. İsmet ŞAHİN